FT Partners Proprietary FinTech Research:
AUTO FINTECH – THE EMERGING FINTECH ECOSYSTEM SURROUNDING THE AUTO INDUSTRY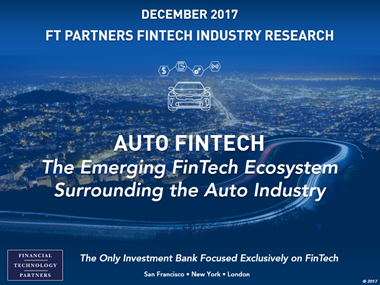 FT Partners is pleased to provide our clients and industry executives with our latest industry research report, "Auto FinTech — The Emerging FinTech Ecosystem Surrounding the Auto Industry."
As the automotive industry continues to innovate, consumers and businesses will expect the financial services and processes surrounding this massive industry to modernize and adapt as well. Similarly, as new advances change the way consumers and businesses use cars, both traditional financial services and FinTech companies can distinguish themselves by offering new, innovative solutions.
Key Automotive Industry Trends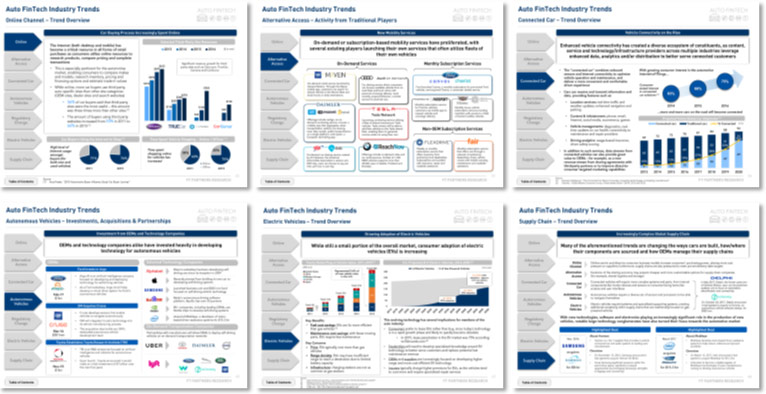 The report highlights a number of key trends within the broader automotive industry that are affecting financial services, such as:
Online purchase process
Alternative access platforms
Increased car connectivity
Autonomous vehicles
Electric vehicles
Regulatory changes around dealerships
Changes in the supply chain
Auto FinTech Landscape
The report features a comprehensive landscape of Auto FinTech companies covering both incumbent industry players and new, disruptive startups. Along with this landscape, the report features detailed profiles of selected Auto FinTech companies.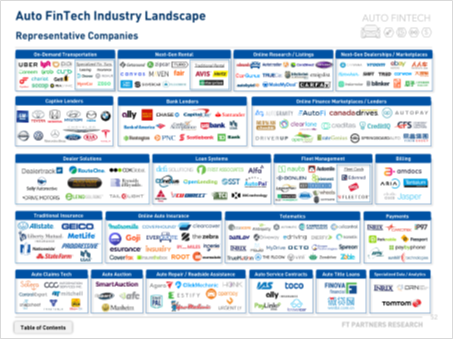 The Auto FinTech landscape includes sub-categories such as:
Auto Auction
Next-Gen Dealerships / Marketplaces
Auto Claims Tech
Next-Gen Rental
Auto Repair / Roadside Assistance
On-Demand Transportation
Auto Service Contracts
Online Auto Insurance
Auto Title Loans
Online Finance Marketplaces / Lenders
Bank Lenders
Online Research / Listings
Billing
Payments
Captive Lenders
Specialized Data / Analytics
Dealer Solutions
Telematics
Fleet Management
Traditional Insurance
Loan Systems
CEO Interviews
The report features a series of interviews with CEOs at notable disruptive companies in the Auto FinTech industry.

FT Partners' Proprietary Financing and M&A Transaction Database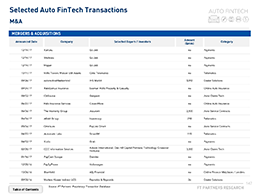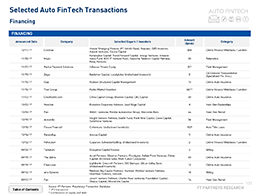 The report includes comprehensive lists of financing and M&A deals in the Auto FinTech space, sourced from FT Partners' proprietary FinTech database. Also included are links to several detailed transaction profiles that examine significant deals in the space.
Selected FT Partners Transactions

Selected FT Partners Research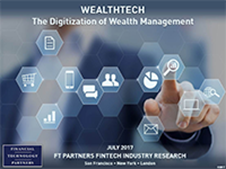 WealthTech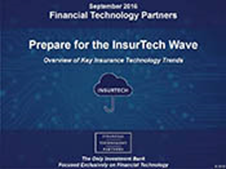 InsurTech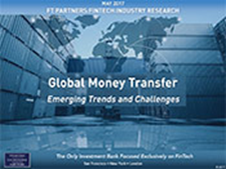 Global Money Transfer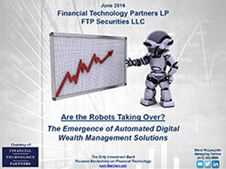 Digital Wealth Management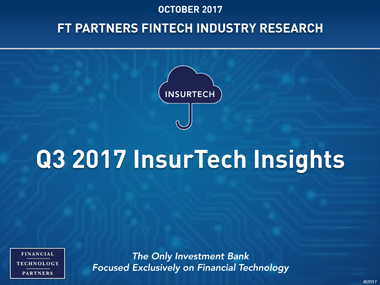 Q3 2017 FinTech Insights