FT Partners Proprietary FinTech Research:
Women in FinTech: Redefining the Future of FinTech – 2022 Edition
Executive Summary:
FinTech is one of the few industries that brings together two traditionally male-dominated fields – finance and technology. However, many companies in finance, technology, and FinTech are recognizing the importance of diversity in the workplace. Additionally, a groundswell of FinTech companies that focus on women and their financial health has emerged in the industry.
This Report:
Discusses trends around women in finance, tech, venture capital, and FinTech
Showcases more than 15 exclusive interviews with female CEOs, founders, executives and investors
Highlights 26 FinTech companies focused on women's financial health and wellness
Profiles over 60 FinTech companies with female C-suite executives
Features 24 investment firms focused on offering financing to female entrepreneurs
Featured Pages
---
Video Conference
---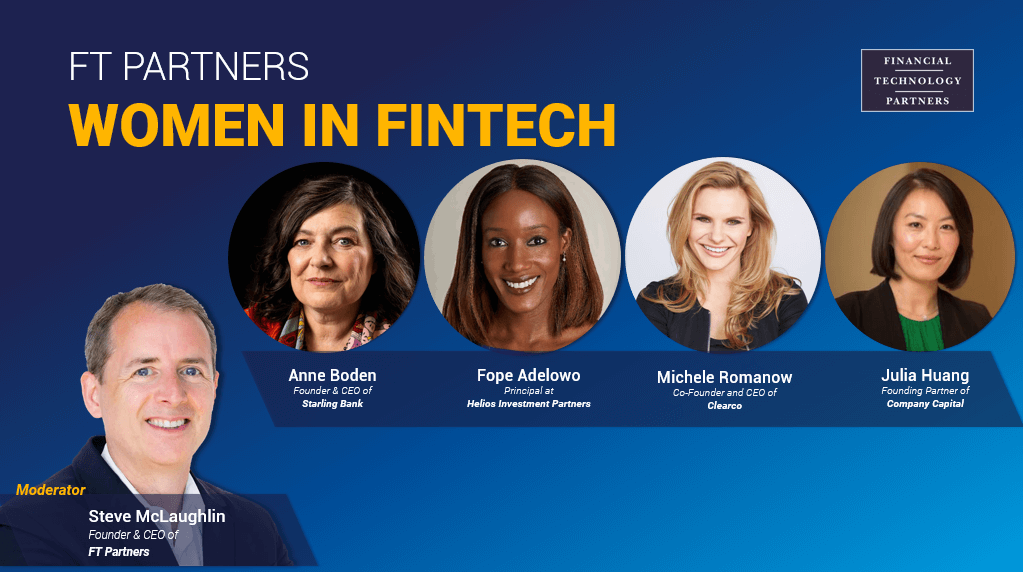 On March 8, 2022 – International Women's Day – FT Partners hosted a live VIP video conference call with four leading female executives and investors from across the FinTech sector. The women shared their perspectives on the industry, obstacles and challenges they faced in addition to some inspiring success stories. Additionally, the panelists discussed the challenges female founders have in accessing funding and advice for men and women in the industry and aspiring female leaders in FinTech. The panelists include: Anne Boden, Founder & CEO of Starling, Fope Adelowo, Principal at Helios Investment Partners, Michele Romanow, Co-Founder & CEO of Clearco, and Julia Huang, Founding Partner of Company Capital.