FT Partners publishes Q1 2023 FinTech Insights reports
While still feeling the prolonged impact from high inflation and rising interest rates, turbulence in the banking industry added another wrinkle to the FinTech deal activity environment in Q1 2023. Despite the turmoil and ongoing challenges in the market, Q1 2023 private FinTech company financing volume rose 53% sequentially to $17.7 billion, up from $11.6 billion in Q4 2022, and broke a string of three consecutive quarters of declines. To be fair, Stripe's $6.5 billion Series I round – the second largest FinTech funding round ever – accounted for more than one third of the total financing volume in the quarter. The actual number of financing rounds also picked up sequentially in Q1 2023 (794 deals) compared to Q4 2022 (681 deals), primarily led by a steadier stream of early-stage and smaller-sized deals.

The reports feature:
Q1 2023 and historical financing and M&A volume and deal count statistics

Most active investors including strategic investor participation

Analysis of recent FinTech Public-to-Private transactions

Breakdowns by sub-sector, geography, product type and business model

Market performance data, IPO and SPAC volumes, and crypto prices and volumes

Expanded "History of FinTech"
FinTech – All Sectors Report InsurTech Report Crypto & Cap. Mkts Tech Report Sponsors / Private Equity Report
Recent VIP Video Conferences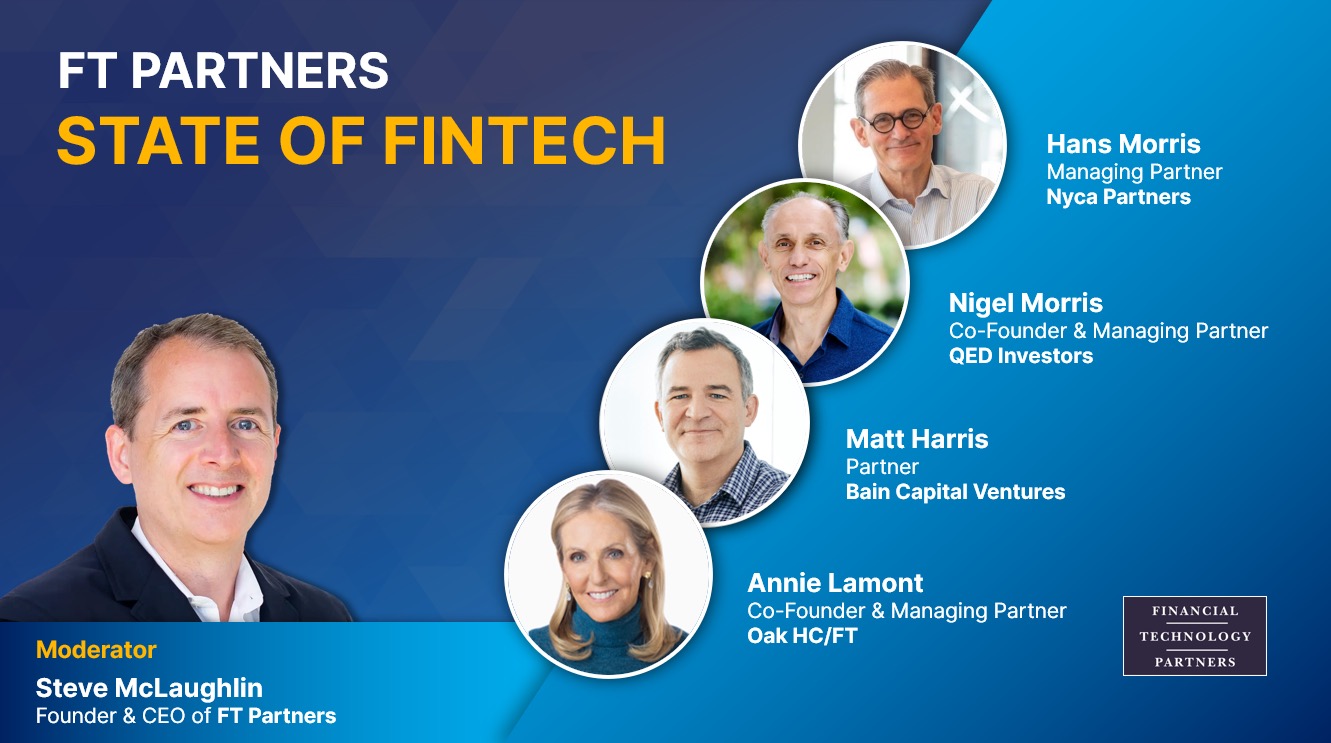 On March 30, FT Partners held a VIP video conference that brought together four industry titans to discuss the State of FinTech in 2023. The panel discussed key trends impacting the FinTech landscape from an investor's perspective.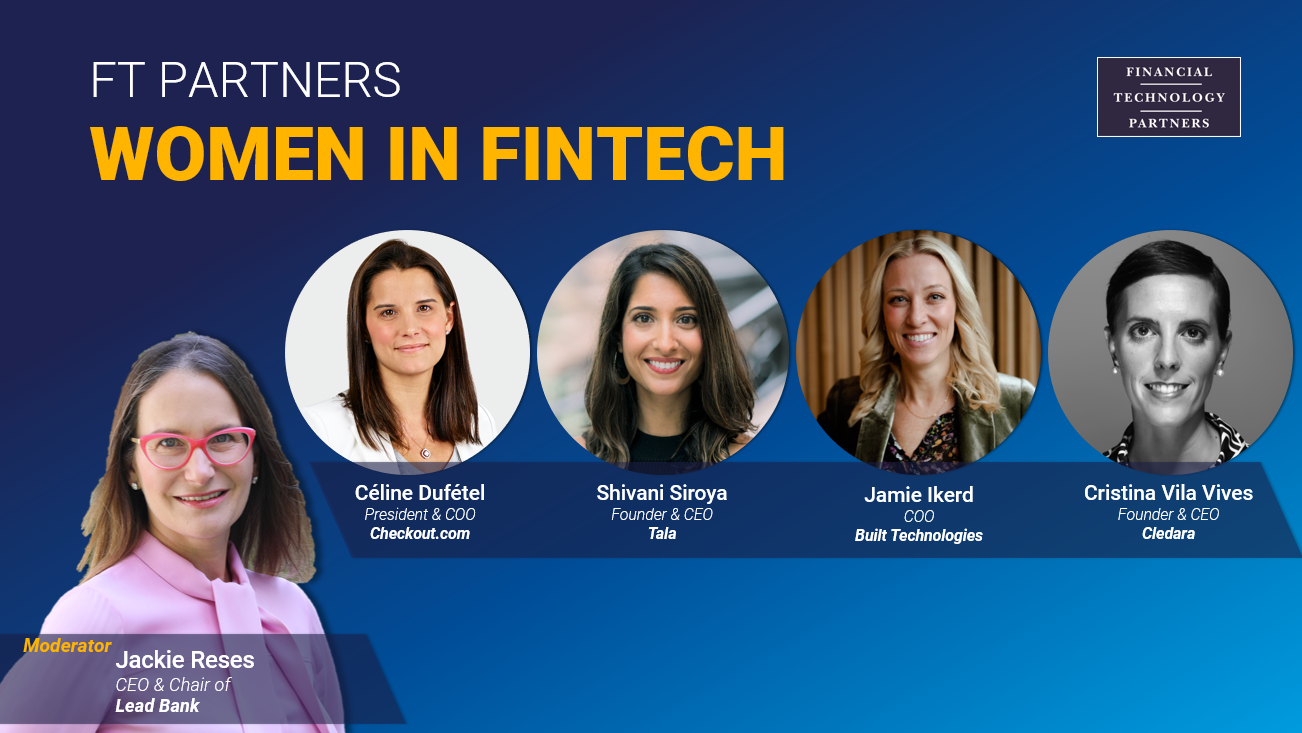 On March 8, 2023 – International Women's Day – FT Partners' held its third annual Women in FinTech VIP video conference. The live panel featured five leading female executives from across the FinTech sector. The women shared their strategies for operating successful FinTech businesses in the current market environment in addition to discussing interesting FinTech innovations and trends, as well as offering advice and career lessons for up-and-coming leaders.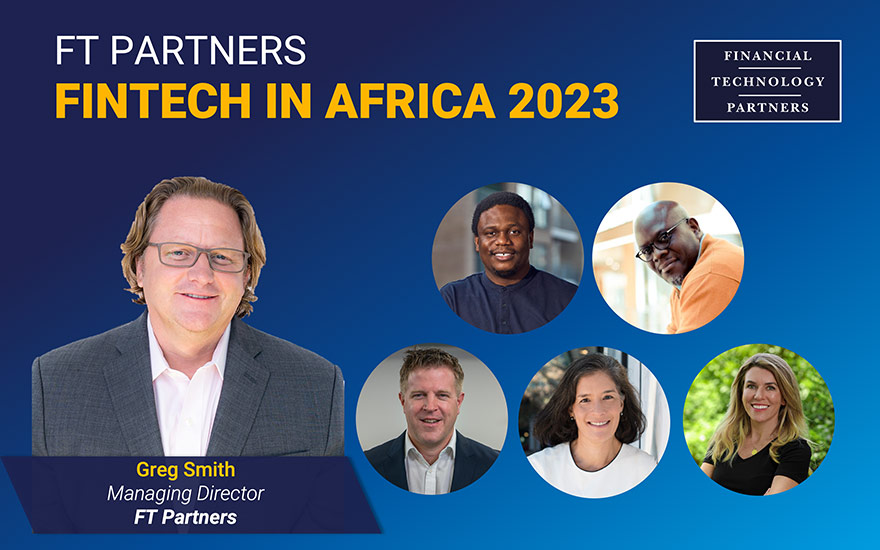 On Wednesday, January 18, 2023, FT Partners held a live VIP video conference, FinTech in Africa 2023, that brought together leading Africa-focused FinTech CEOs and investors to discuss the state of FinTech in Africa in 2023. FinTech in Africa is nearing its coming of age phase as business models are proving to be investable, large financing rounds are taking place, unicorns are emerging, prominent global investors and strategics are taking notice, and exits are beginning to happen.
FT Partners FinTech Industry Research
FT Partners regularly publishes detailed research highlighting key trends driving market activity across the FinTech Landscape. Our research and analysis has been featured on Bloomberg, the Wall Street Journal, Dow Jones and the Financial Times and is regularly viewed by CEOs and industry leaders. FT Partners' unique insight into FinTech is a direct result of successfully executing hundreds of transactions combined with over 19 years of exclusive focus on the FinTech sector. Follow FT Partners on Twitter and LinkedIn for real time updates, and subscribe to FT Partners' Monthly FinTech Market Analysis for the industry's most comprehensive and detailed updates on the FinTech sector.
Each report published by FT Partners contains an in depth review of a unique area of the FinTech marketplace and is highly valuable and topical to CEOs, board members, investors and key stakeholders across the FinTech landscape. Each report is continually updated by the FT Partners Research Team with the latest information, facts and metrics to provide our readers with the most up-to-date and comprehensive subject matter. The latest version of each report is provided below along with a brief overview of the report contents.
CEO Monthly Market Update & Analysis Reports
FT Partners provides the broadest and most specialized coverage of FinTech with our comprehensive monthly sector-specific reports. Our depth of research and insight is unmatched in the industry and these reports are widely recognized and reviewed by top CEO's and investors in the market. Each monthly report includes sector-specific public company comparables, recent financing and M&A transactions and upcoming industry conferences and events. The latest month's reports are available below. Subscribe to receive the latest reports every month.
June 2023
Exclusive Executive Interviews
Co-Founder & CEO
Amberdata delivers comprehensive digital asset data and insights empowering financial institutions with critical data for research, trading, risk, analytics, reporting, and compliance.
Co-Founder & CEO
Posh offers conversational AI solutions for the financial services industry including new-age AI chatbots with voice and text capability.
Co-Founder & CEO
Super.com provides an all-in-one savings app for consumers that allows them to spend less, save more, and build credit through its various product offerings.
Recent Transaction Profiles
FT Partners frequently publishes detailed profiles on significant financing, IPO, and M&A transactions in the FinTech space. See below for a selection of our latest reports.

Series D Financing
$70,000,000
Nymbus Raises $70 million in Series D Financing Led by Insight Partners
FT Partners Advised

Acquires


$250,000,000
Ripple Acquires Metaco for $250 million

Financing
$78,000,000
TymeBank Raises $78 million in Financing Led by Norrsken22 and Blue Earth Capital
Quarterly Insights & Annual Almanacs
Comprehensive FinTech Financing, M&A and IPO data
FT Partners' FinTech Insights Reports are published on a quarterly basis, along with a comprehensive year-end FinTech Almanac. All information included in the reports is sourced from FT Partners' Proprietary Transaction Database, which is compiled by the FT Partners Research Team through primary research and data analysis. The reports feature M&A, financing and IPO statistics and trends as well as breakdowns by FinTech vertical, geography, investor-type and much more. Be sure to check back for quarterly updates and additions. All recent reports can be viewed or downloaded for free.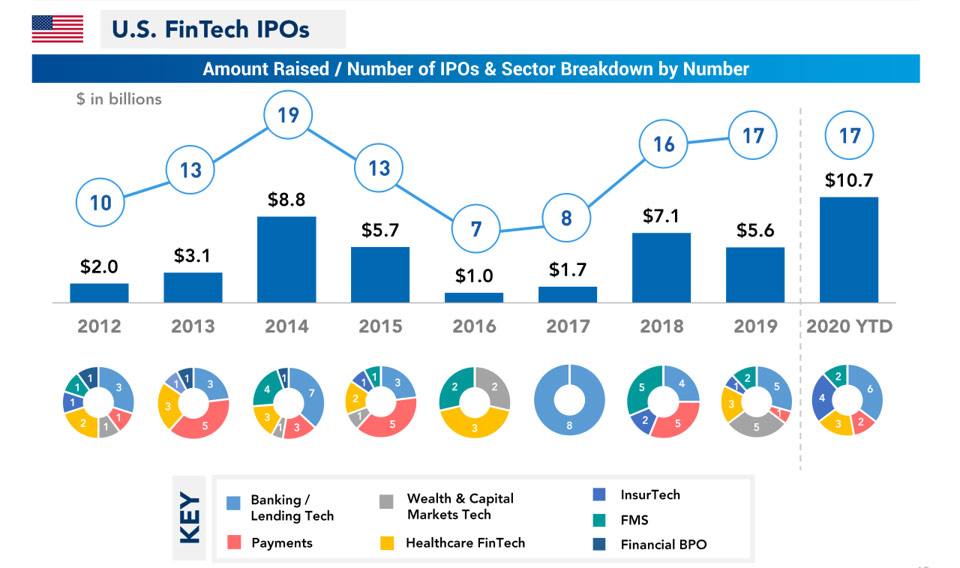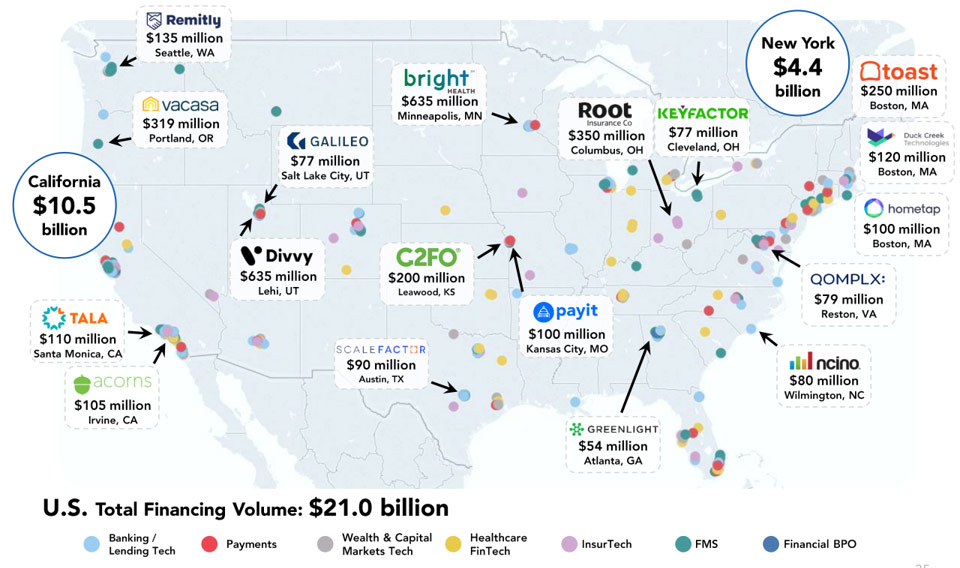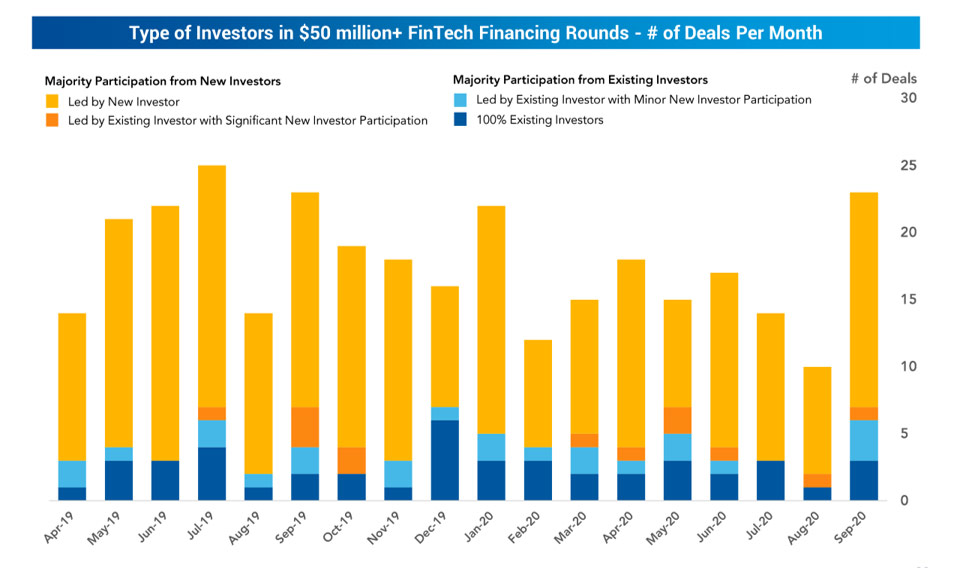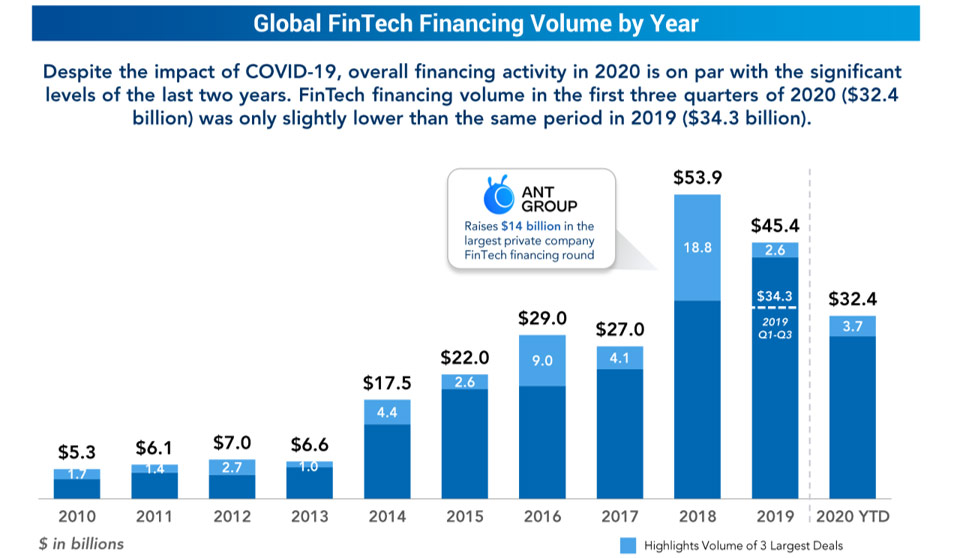 Regularly Updated Infographics
FT Partners regularly publishes infographics highlighting global FinTech transaction activity covering financings, IPOs, SPACs and M&A deals. This deal activity is derived from our proprietary transaction database. Available infographics include: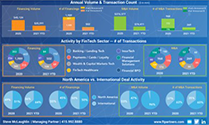 Features total financing / M&A dollar volume and deal count
Highlights largest transactions in the week
Tracks YTD activity by FinTech Sector and Geography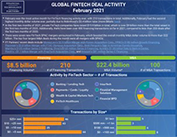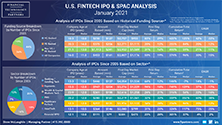 In-depth analysis of U.S. FinTech IPOs over the past decade including yearly breakdowns by capital raised and FinTech sector
Rankings of the largest IPOs by capital raised, best and worst performing and most recent FinTech IPO transactions
Insight into pending IPOs, spin-offs and companies acquired while on file for an IPO
Details on the most active investors in FinTech IPOs
Ranking of the most well funded private FinTech companies
Selected Industry Research Reports