News

Handyman's Helper: How David Zalik Skipped High School On His Way To Becoming A Billionaire
By Lauren Gensler
This story appears in the September 5, 2017 issue of Forbes
Article Highlights: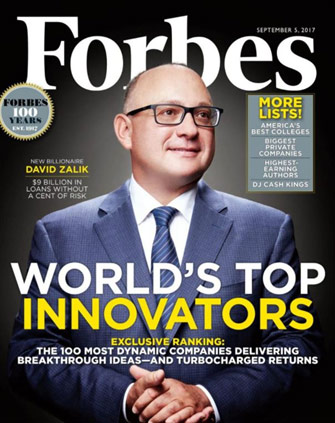 David Zalik pulls his black Mercedes SL550 convertible into the parking garage of an aging low-rise office building in the outer reaches of Atlanta and removes the baseball cap that shielded his balding head from the sun. "This is a less glam version of Willy Wonka and the Chocolate Factory, where nobody goes," he warns me as we approach the entrance.
With that I become the first public witness to the long, irregularly shaped basement office where GreenSky, America's third-most-valuable FinTech company (after Stripe and SoFi), has been incubating in obscurity for the past decade. And it's Zalik who holds the golden ticket: Last September, GreenSky raised $50 million at a $3.6 billion valuation. The 43-year-old cofounder and CEO still owns more than half of the company, shooting him well into the billionaire ranks.
His secret starts in the dimly lit labyrinth of cubicles, where employees with headsets pitch GreenSky's simple-to-use mobile app to ... home remodeling contractors. It's an odd customer base for a FinTech unicorn, but Zalik figured out that contractors are the gatekeepers of one of the great markets in America, homeowners, whom yet another tranche of the company's phone reps are cajoling to catch up on their loan payments. Collecting money on time usually isn't a problem, though: While GreenSky makes quickly approved, unsecured loans, it does so solely to borrowers with passable FICO scores, letting a slew of other online lenders chase the more marginal candidates.
GreenSky's real magic, however, is something you can't see: a model that transfers much of the risk, as well as the work, to other parties--and profits from both sides of each deal. Those 17,000 contractors not only market the loans to homeowners but also pay GreenSky, on average, 6% of the loan amount. And it is 14 deposit-rich bank partners, including SunTrust, Regions and Fifth Third (which made the most recent equity investment in Zalik's company), that are the ones that actually make the loans, paying GreenSky an estimated 1% of the balance each year to generate and service them. "We wanted to do something where we owned the transaction," Zalik says.
Ownership, but without any of the responsibilities--GreenSky isn't on the hook for defaults (though its pay from the banks varies, based on loan performance). It's a classic digital-era middleman, in the great tradition of eBay and Airbnb, to the tune of $9 billion in unsecured loans to 1.2 million customers since 2012. Zalik figures that in 2017 GreenSky will sit in the middle of more than $3.5 billion in loan volume. Forbes estimates that the company will take in $250 million in revenue this year, with profit margins that likely exceed 25% (Zalik says the company has been profitable for five years).
As with any great innovation, the real appeal of this model is that it's scalable. There's no reason GreenSky needs to be limited to, on average, $10,000 home renovations. Why not braces or appliances or plastic surgery? That's where Zalik is heading. For some fields, GreenSky offers the potential to replace credit card financing entirely.
...By the summer of 2013, GreenSky's contractor model had started to take off, and Zalik, with three young daughters and $10 million-plus in debt (taken out using his Atlanta real estate as collateral), was itching to sell a piece of his company. When a private equity firm Zalik won't name offered to buy 20% at a $200 million valuation, he jumped at the deal. It fell apart 48 hours before it was supposed to close.
Zalik was devastated, but it turned out to be a lucky break. That private equity firm had introduced him to Nigel Morris, who nearly three decades ago cofounded the credit card disruptor Capital One. "This product annihilates credit cards as an option" for home-improvement financing, says Morris, whose Virginia-based QED Investors specializes in FinTech companies. He made a seven-figure investment in January 2014 and helped Zalik connect beyond Atlanta. In the fall of 2014, Zalik and other insiders sold 17% of GreenSky at a $1.8 billion valuation to TPG, Wellington Management, Iconiq Capital and DST Global. Two years later, Fifth Third invested at double that valuation.